501c3 nonprofit on a mission to end the suffering of exotic animals through rescue, environmental conservation, and education.
SHOWTIME ELITE HAS PARTNERED WITH WILD DISCOVERY TO HELP IN THEIR MISSION TO EDUCATE THE PUBLIC ABOUT THEIR EXOCTIC ANIMAL RESCUE PROGRAM. OUR PARTNERSHIP WITH WILD DISCOVERY WILL INCLUDE THEM PARTICIPATING IN LOCAL FESTIVALS WITH SHOWTIME, CAMP ROCK ON-SITE FIELD TRIPS, BIRTHDAY PARTIES, OPEN HOUSE EVENTS, OUR ALLSTAR SHOWCASE, AND MORE…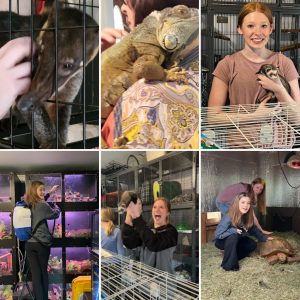 AS PART OF OUR PARTNERSHIP, WE WILL BE COLLECTING DONATIONS FOR THE SANCTUARY AND HAVING SPECIAL VOLUNTEER EVENTS ON THE SANCTUARY GROUNDS WHERE WE WILL BE BUILDING ANIMALS ENCLOSURES. THESE OPPORTUNITIES ARE OPEN TO ALL SHOWTIME FAMILIES AND COACHES.
OUR FIRST EVENT WILL BE A DONATION DRIVE FOR THE ANIMALS. WE WILL BE COLLECTING THE FOLLOWING ITEMS: PAPER TOWELS, CLOROX WIPES, DISINFECTING SPRAY, NON-LATEX GLOVES, FLEECE FABRIC/BLANKET FOR THE CAGE BEDS, AND FOOD FOR THE ANIMALS (FRESH & NON-PERISHABLE). A FULL LIST CAN FOUND BY CLICKING ON THE LINK BELOW: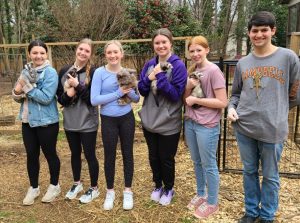 What We Do 
Exotic Animal Rescue, Environmental Conservation, Education and Outreach Location and Contact Information 
We are located in Raleigh, NC and serve the Triangle NC and surrounding regions.
Tel: (919) 610-7409 Email: Critter.Crew@Wild-Discovery.org Web: https://wild-discovery.org 
Exotic Animal Rescue 
Wild Discovery offers a safe haven for families and animals in need of surrendering their pet. We provide temporary housing with necessary medical care, until the animal is able to be adopted. We then match the animal with an interested family to find their forever home! 
Animals supported include Reptiles, Amphibians, Small mammals, Birds 
Snake, Iguana, Crested Gecko, Leopard Gecko, Savannah Monitor, Uromastyx, Veiled Chameleon, Bearded Dragon, Rankin's Dragon, Blue Tongue Skink, Emerald Swift Sulcata Tortoise, Red-eared Slider, African Side Neck Turtle, White's Tree Frog, Red Eye Tree Frog, Golden Tree Frog, Pac-Man Frog, Pixie Frog 
Rabbit, Chinchilla, Ferret, Kinkajou, Fennec Fox, Coatimundi, Sugar Glider, Pig, Goat Macaw, Green Cheek Conure, Quaker Parrot, Chickens, Quail 
Rescue, Rehab, and Rehoming Services 
Provide intake services for animals in need. 
Continued care through a rehab period for animals with medical needs 
Matching animals with families to find their forever home. 
Promoting ethical animal importing and breeding; animal import should be avoided where possible in favor of domestic breeding to sustain native populations of animals, animals bred in captivity are much better adjusted than animals captured in the wild, and  animals should be removed from their home environment with extreme prejudice.
Environmental Conservation
With a primary mission to end the suffering of exotic animals through rescue and education, we recognize that maintaining native habitats is essential to animals of all kinds. Our physical locations and educational outreach programs focus not only animal welfare, but also how we can be good stewards of the earth for the betterment of all animals.
Education and Outreach
The education and outreach programs at Wild Discovery create awareness of exotic animal welfare and
environmental conservation. We serve to educate the community on what having a pet means, how best to care
for that pet, and how you can help animals all around the world through environmental conservation.
Grow Local, Raise Local to reduce carbon footprint
Grow a garden
Raise chickens
Learn to become self sufficient
Reduce, Reuse, Recycle to create a more sustainable lifestyle
Permaculture, vermiculture, aquaponics, and regenerative farming to restore damaged
ecosystems and create a balance environment where animals can thrive.
Permaculture – Compost setup and maintenance, Non GMO and open source seeds
Vermiculture – Incorporating worms to optimize organic break down
Aquaponics – The synthesis of fish and farming
Regenerative agriculture – Conservation and rehabilitation approach to food and farming
systems
Native planting and Pollinator cultivation
Raise your own bees or create a safe space for pollinators to feed
Plant native – Removal of invasive species, installing native gardens, and reducing
dependency on commercial soil amendments and insecticides
Host a bat colony for natural pest management
Awareness of importance to maintain native environments all over the world.
Animal Ambassadors
A portion of permanent residents at Wild Discovery are available for educational events to
raise awareness for ethical pet ownership.
Environmental Conservation
We strive to grow as much of the food our animals eat on site at Wild Discovery. This
includes gardens that provide produce as well as chickens and quail for eggs.
We offer expanded educational offerings in the following areas:
Grow Local, Raise Local to reduce carbon footprint
Reduce, Reuse, Recycle to create a more sustainable lifestyle
Permaculture, vermiculture, and regenerative farming to restore damaged ecosystems
Native plant and pollinator cultivation
To learn more about Wild Discovery, please visit their website:
Animal, Rescue – Annwn Animal Sanctuary – Raleigh, North Carolina (wild-discovery.org)