Showtime Elite is excited to announce that we now offer FIELD TRIPS!!
A two-hour, fun filled experience for daycares, preschools, and elementary schools (public, private, and charter).
There are so many benefits to taking student's on Field Trip's including social, emotional, physical, real world learning experience, cultural growth and they play a key component in a well-rounded instructional program. Researchers have found that physical activity not only strengthens a child's muscles and bones, it can also allow them to have a better outlook on life by building confidence, managing anxiety, increasing self-esteem, and cognitive skills.
Your Showtime Field Trip will include:
Access to our 10,000 sq ft state of the art facility
Showtime Coach(s)
Warm up routine (stretching/introductions/rules)
Structured Gym Games
Trampoline Time
Tumbling
Parachute Games
Craft
Character Lesson
If your school or childcare facility is interested in a Showtime Field Trip, please contact our Marketing and Programs Director, Jennifer Neumann at (919) 346-7300 or by email at Jennifer@Showtimeapex.com for more information and to check availability.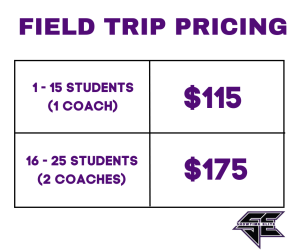 OUR GYM…